Back Office
The Operational Heartbeat

The Operational Heartbeat
Creating the ultimate cinematic experience which will keep your customers returning again and again does not just happen by chance! The heartbeat of the operation, the back office, might not be one of the public entertainment areas, but it is no less important in terms of the smooth operation which will directly influence public perception. Everything that supports the satisfaction of the cinema-goer has been planned and set-up in the back office – this is why it is so important to ensure operational excellence in this area. Cinema operation includes office tasks such as film scheduling, content planning and administrative work which require a visual interface to the computing device. When staff are working for long periods in front of the screen it is imperative to safeguard their comfort and well-being in the workplace.
Intelligent features and smart selection of components supports highest productivity and efficient multi-tasking in the back office area. This ensures the lowest operational cost, high user satisfaction as well as operational safety.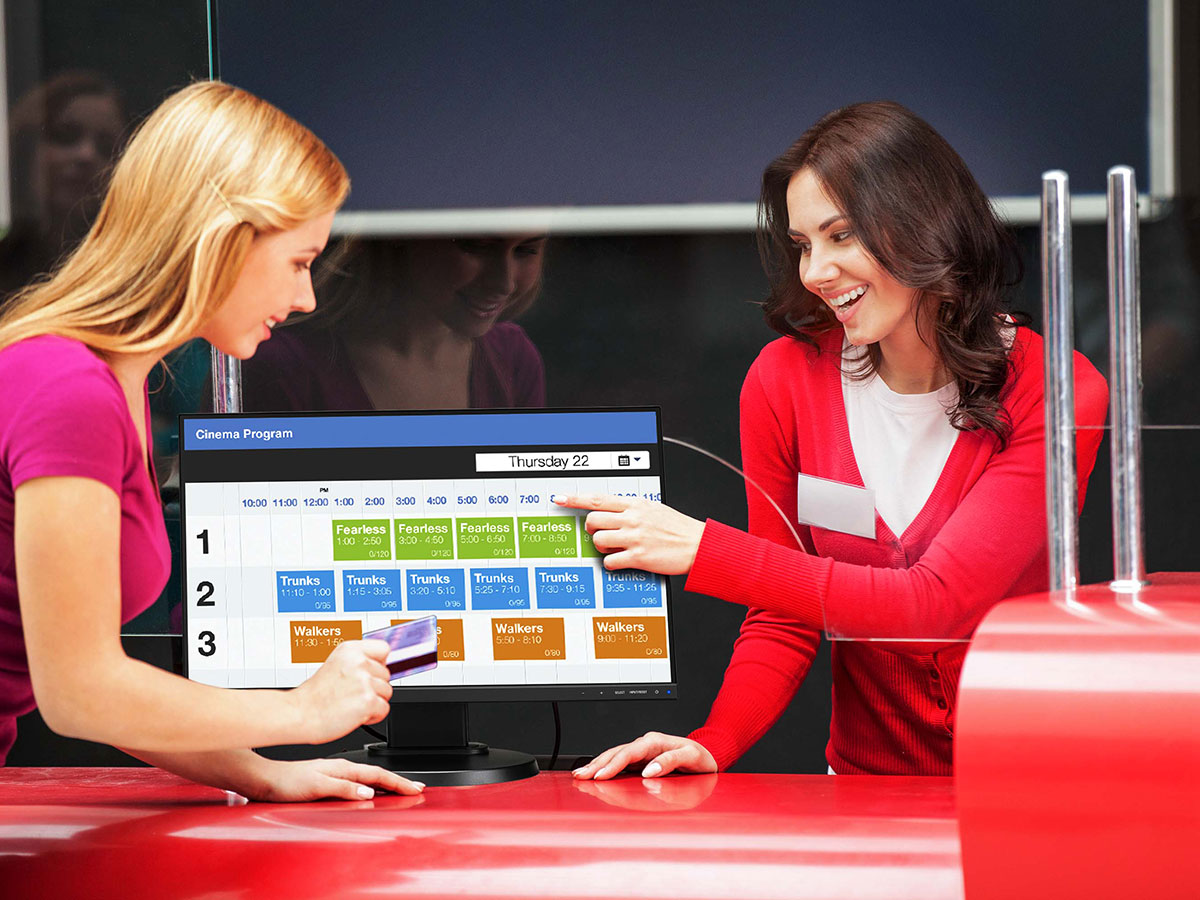 Ergonomic Office Monitors
Easy to read, well designed, reliable and supporting a health-conscious working environment are the critical factors for desktop monitors in order to support operational excellence.
Health-conscious performance is required to secure a safe working environment by protecting your eyes from strain and damage with built-in Low Blue Light Plus technology filtering out hazardous blue light emissions and eliminating flickering which protects your eyes against cataracts and macular degeneration without compromise to true-to-life display color performance.
User comfort is ensured with multiple setting options for an ergonomic office such as full height adjustability, swivel, tilt and pivot functionality ensuring perfect individual set-up. Smart sensor technology adapts the brightness outputs automatically to the environment providing perfect readability yet power efficient usage of the equipment.
Desktop Displays
For more detailed information on the products below, click on the model number.
| Model | Size | Height Adjust | Brightness | Resolution | Connectivity |
| --- | --- | --- | --- | --- | --- |
| E172M | 17inch | >50 mm | 250 cd/m² | 1280 x 1024 | DisplayPort, HDMI, VGA 15-pin D-sub |
| E221N | 22inch | 110 mm | 250 cd/m² | 1920 x 1080 | DisplayPort, HDMI, VGA 15-pin D-sub |
| E233WMi | 23inch | 110 mm | 250 cd/m² | 1920 x 1080 | DisplayPort, DVI-D, VGA 15-pin D-sub |
| E242N | 24inch | 110 mm | 250 cd/m² | 1920 x 1080 | DisplayPort, HDMI, VGA 15-pin D-sub, USB 3.1 hub |
| E243F | 24inch | 130 mm | 250 cd/m² | 1920 x 1080 | DisplayPort, HDMI, USB Type-C |
| E273F | 27inch | 130 mm | 250 cd/m² | 1920 x 1080 | DisplayPort, HDMI, USB Type-C |
| E271N | 27inch | 130 mm | 250 cd/m² | 1920 x 1080 | DisplayPort, HDMI, VGA 15-pin D-sub |
| EA193Mi | 19inch | 110 mm | 250 cd/m² | 1280 x 1024 | DisplayPort, DVI-D, VGA 15-pin D-sub |
| EA224WMi | 22inch | 130 mm | 250 cd/m² | 1920 x 1080 | DisplayPort, HDMI, DVI-D, VGA 15-pin D-sub |
| EA231WU | 23inch | 150 mm | 250 cd/m² | 1920 x 1200 | DisplayPort, HDMI, DVI-D, VGA 15-pin D-sub |
| EA234WMi | 23inch | 130 mm | 250 cd/m² | 1920 x 1080 | DisplayPort, DVI-D, HDMI, VGA 15-pin D-sub |
| EA241F | 24inch | 150 mm | 250 cd/m² | 1920 x 1080 | DisplayPort, HDMI, DVI-D, VGA 15-pin D-sub |
| EA242F | 24inch | 150 mm | 250 cd/m² | 1920 x 1080 | DisplayPort, HDMI, DVI-D, VGA 15-pin D-sub |
| EA245WMi | 24inch | 100 mm | 300 cd/m² | 1920 x 1200 | DisplayPort, HDMI, DVI-D, VGA 15-pin D-sub |
| EA271F | 27inch | 150 mm | 250 cd/m² | 1920 x 1080 | DisplayPort, HDMI, DVI-D, VGA 15-pin D-sub |
| EA271Q | 27inch | 150 mm | 350 cd/m² | 2560 x 1440 | DisplayPort, DVI-D, HDMI, USB Type-C |
| EA271U | 27inch | 150 mm | 350 cd/m² | 3840 x 2160 | DisplayPort, (2) HDMI, USB Type-C |
| EA272F | 27inch | 150 mm | 250 cd/m² | 1920 x 1080 | DisplayPort, HDMI, VGA 15-pin D-sub, USB Type-C |
| EX241UN | 24inch | 100 mm | 250 cd/m² | 1920 x 1080 | DisplayPort, HDMI, DVI-D, VGA 15-pin D-sub |